Well hello dear reader,
I had a great Back to School Night. The parents were super nice and I think my presentation went well. I heard my four favorite words, "My child loves kindergarten!"
Success!
My pal over at Fourth Grade Flipper is having a 200 Follower Giveaway! If you go and enter the giveaway you can win tons of goodies and one item from my TpT store! Click on the picture below to enter for your chance to win.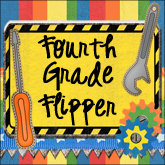 So…I've been trying to get a couple of packets finished and ready for y'all. I am working on a Dia de los Muertos packet and a Morning Activities for the month of November. I am loving the Morning Activities for October! It is my best seller so far. I have received some great compliments on the packet and my kids really like it. It's easy enough for them to understand with very little help from me. It's also great because the activities get progressively more difficult. It also has become a great quick assessment for me. I am able to see the kiddos who need a little more help with initial sounds, writing or counting. I keep their papers and store them in my data assessment binder. Love it!
In celebration of Columbus Day, I decided to have a sale at both my TpT
store and my Teachers Notebook store. Everything is 20% off! Click on
the pictures below to go to either store.
My TpT store
My Teachers Notebook store